Durum Wheat Torchio Pasta
FIND THIS ITEM AT YOUR NEAREST STORE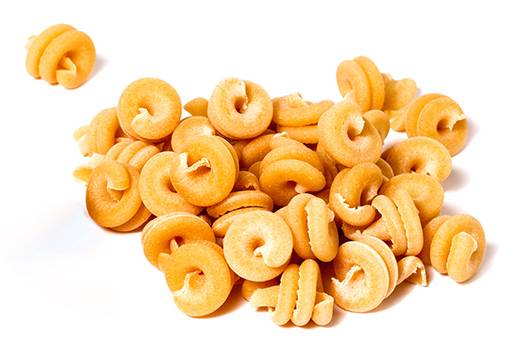 NUTRITION INFORMATION

Serving size:

100 g

Average Quantity

Per 100 g Serve

Energy Protein
1390 kJ

10.9 g

Fat, total

–  saturated Carbohydrates

–  sugars

2.3 g

0.5 g

64.7 g

0 g

Sodium
168 mg
Dietary Fibre
2.6 g
Durum Wheat Torchio Pasta
FIND THIS ITEM AT YOUR NEAREST STORE
This Torchio pasta is made in regional Victoria by a small family company using 100% Australian premium ingredients. They source local paddock-laid, whole eggs produced by happy chooks that are free to range anytime they like.
The pasta is made using traditional methods – before it is slowly dried for 36 hours to ensure a smooth, silky texture and full flavour.
'Torchio' means 'press' in Italian, as in a wine press, and describes the tight corkscrew spirals of this pasta. It is perfect for 'holding' your favourite sauce, is quick and easy to cook, and stores well in the pantry.
---
How to Use:
Use 1 litre of water for every 100 grams of Torchio pasta. Bring the water to a rapid boil. Add pasta and stir to ensure it separates, continuing to stir occasionally. Cook for 9-12 minutes or until al dente. Drain and serve topped with your favourite sauce.
Alternatively, add the drained pasta to a large pan with a little gently warmed oil infused with garlic or chilli, or your preferred sauce. Toss or stir until the sauce and pasta are combined before serving with grated parmesan cheese or fresh herbs. Perfect with pesto, carbonara or amatriciana.
Chilled, al dente pasta can be used in wonderful fresh pasta salads. Lovely with fresh basil, olives, Spanish onions, cherry tomatoes, and a splash of olive oil.
Ingredients:
Durum Wheat Semolina, Whole Free Range Eggs, "00" White Wheat Flour, Organic Olive Oil, Australian Sea Salt, Filtered Water. Preservative Free, no added sugar.
Allergens:
This product contains Wheat and Eggs. May also contain traces of other allergens due to possible cross-contamination.
Storage:
Store in an airtight container in a cool, dry place, away from direct sunlight.
Shelf Life:
Up to 12 months when stored as above. See Best Before date.
Please contact your local store to check availability.  Not available in all stores.  Images for illustrative purposes only.
NUTRITION INFORMATION

Serving size:

100 g

Average Quantity

Per 100 g Serve

Energy Protein
1390 kJ

10.9 g

Fat, total

–  saturated Carbohydrates

–  sugars

2.3 g

0.5 g

64.7 g

0 g

Sodium
168 mg
Dietary Fibre
2.6 g
Product: #56030